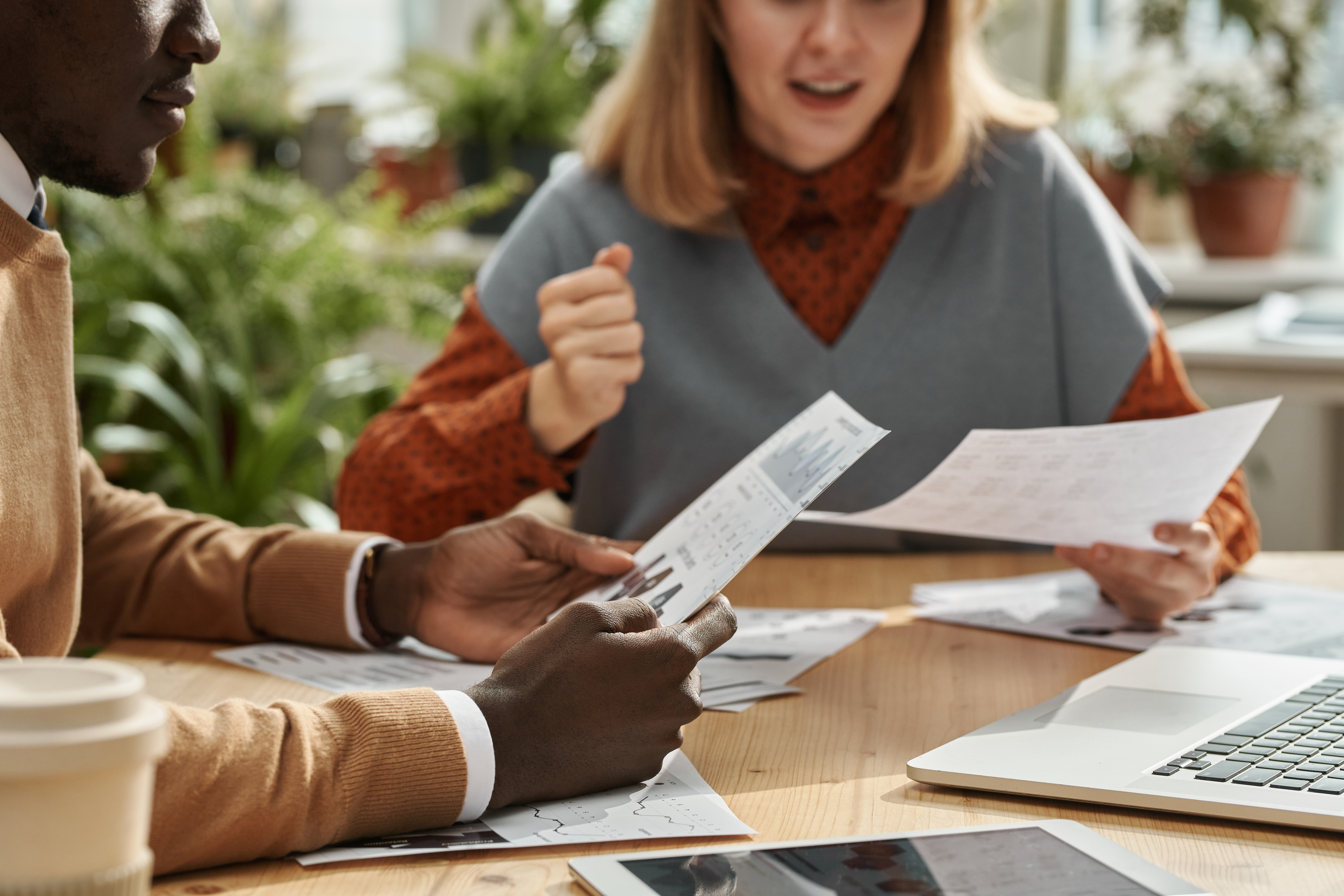 Online Learning
How to Request Maven as L&D at Your Company
6 min read
View all articles
By Dakota Brown


May 23, 2023
Are you already employed as a data professional but want to expand your skills?
Do you think your team could benefit from some high-quality data analytics training?
Would you like more opportunities for learning and development through your employer?
If you're looking for a way to learn from our courses because the knowledge can benefit your current company, then you've come to the right place!
Now for the real question: how do you influence the business decisions of your leadership team if you're an entry or mid-level employee?
Step 1: Do your research.
If you're looking to get your employer to pay for Maven as your professional learning and development, then you already know about what we offer. This research phase is all about your company; the more you know, the better you can prepare your request!
Start by answering these questions:
Who is the Decision Maker for your company?
What does the process look like to get an idea in front of that person?
What incentivizes this person?
What are the key pain points that Maven Training will address for your company? (This will inform how you structure your pitch!)
Once you know who you're trying to convince and what they value, you'll be able to address the things they care about most and can gather all of the information you need to feel confident in your ask. Which brings us to our next step…
Step 2: Schedule a meeting.
Emails are great, but meetings are even better.
An email isn't going to capture your enthusiasm, which can encourage your Decision Maker; if you're excited, there's a good chance that others will be, too!
You DO want to meet directly with your company's Decision Maker, but make sure you follow the appropriate channels and don't disrupt your company culture. If your company has an open-door policy where you have direct access to them, great! Otherwise, start with your direct supervisor. Let them know you have an idea that could be a huge asset to your team and the company as a whole, and work together to find the best way to get in front of your Decision Maker.
Be persistent; you may have to have this conversation multiple times before you get in front of the right person, but don't lose hope! It's all part of the process.
Step 3: Be Prepared!
There's no worse feeling than walking into an important meeting feeling scattered. Now that you have that meeting on your calendar, it's time to put your best foot forward.
Here's where you start:
Know your pitch.
When trying to influence a business decision, it's critical that you know exactly what you're asking for and how it will benefit the company.
Remember that research you did about what your Decision Maker cares most about? This is where you'll use it!
Think about the personal values of your Decision Maker. Now consider your company's goals and pain points. Put them in a list, and organize them by priority.
Where can Maven's high-quality data analytics training make the greatest impact?
Go down the list and make notes – this is an awesome way to get organized and build your "script". You'll want your delivery to feel as natural as possible, so make sure you practice a few times before your meeting! (Keep reading for a sample script!)
Enhance your request with visuals.
Show, don't just tell!
Our Maven for Business page has some awesome assets to showcase our Team Training functionality from the manager's viewpoint. You can preview the key assets for your leadership team, from learning path curation to real-time progress reports.
You can also walk your Decision Maker through Maven's platform with a free account. This will emphasize how easy it is to navigate from the user's perspective! (You can also utilize our latest impact report to show the success of individual students.)
Be ready to answer questions.
There will always be more questions! Make sure you feel comfortable answering questions about your personal experience with Maven as well as general knowledge questions.
When things go beyond your scope, or if you can tell that the Decision Maker is interested, suggest that they request a demo. Our team can answer all of their burning questions and give them a more personalized, detailed experience.
Use Our Script!
Presenting to someone in leadership can be intimidating, especially when you're asking for something. We want to help!
This is just a sample script that you can use and customize to fit your own needs. Feel free to take what works for you and leave what doesn't – this should provide you with some structure and a great starting point for your own conversation!
The Script
As you know, our company is growing rapidly, and we're facing increasing competition. In order to stay ahead of the curve, we need to make sure that our team has the skills and knowledge they need to make informed decisions and drive our business forward.
Maven Analytics is the perfect partner to help us achieve this goal.
Why Maven Analytics?
Expert instructors: Maven Analytics' instructors are all experienced professionals with a deep understanding of data analytics. They're passionate about teaching, and they're committed to helping their students succeed.
Custom learning paths: Maven's courses are designed to be engaging and interactive, and they offer a variety of specialized learning paths that can help our team advance their careers.
Benchmark assessments: Maven's pre- and post-course assessments allow you to quantify your team's growth throughout their learning journey.
Real-world projects: Maven Analytics' courses are designed to help students apply their skills to real-world problems. This gives them the opportunity to gain valuable experience and make a real impact on their company.
Reputation: Maven Analytics is a leading provider of data analytics training, and their courses are highly rated by both students and employers.
I believe that team training with Maven Analytics would be a valuable investment for our team. Their courses would help us to:
Improve our data analytics skills: Data analytics training can help our team expand our knowledge of individual tools and empower our analysts to stay up-to-date with industry trends.
Make better data-driven business decisions: Learning with Maven can help our team members make better business decisions by giving us the tools we need to generate new insights from our available data.
Increase our productivity: Upskilling can help our team members become more productive by giving them the skills and knowledge they need to do their jobs more efficiently.
Reduce costs: Team training with Maven Analytics can help the company reduce costs by saving money on hiring new employees or outsourcing projects.
Improve knowledge retention: In-person, group workshops are not only costly – they're impersonal. Maven's Guided Learning helps identify the strengths and weaknesses of each employee and makes it easy to create a customized, self-paced learning program to make sure that the knowledge sticks.
Become proactive instead of reactive: Through continuous education, our team can continue to expand our knowledge and gain fresh perspectives on our incoming data. This lets us anticipate and address potential concerns in advance, rather than having to make sudden adjustments during critical moments.
Foster a Stronger Learning Culture: Increase employee satisfaction and cultivate a cutting-edge data culture by giving our team members an opportunity for learning and development.
In today's competitive business environment, it's more important than ever for our team to have the skills and knowledge to effectively use data analytics to make better business decisions. Maven Analytics can help us achieve this goal.
I urge you to consider signing up for team training with Maven Analytics so that we can start reaping the benefits of a more skilled and knowledgeable team.
Final Thoughts
With the continuous advancement of technology, there's always room to learn and grow as a data professional. A conversation with your employer is a great way to achieve that goal!
Opportunities for learning and development are a valuable asset for any company, and one that you as an employee should feel empowered to request. If you identify a need for your team that will benefit business outcomes, there's no reason it shouldn't be well-received!
Worst case scenario: your Decision Maker says "no" for now, but you've drawn attention to an area of improvement that could lead to a "yes" at a later date. And best case, you get exactly what you want.
I hope this guide has helped boost your confidence to advocate for your team. Best of luck – we hope to see you in a personalized Maven learning path very soon!
Subscribe
To get analytics tips & tricks delivered directly to your inbox.
Ready to become a
data rockstar?
Start learning for free, no credit card required!
Sign Up for Free